Christmas and New Year's have come and gone. Christmas was all right. I got mostly clothes from my parents, which I knew I was getting cause I went with to buy them. I also got some underwear, which I knew I was getting, plus a 6-pack of glass-bottled Coke. My brother got me a new GameCube (which is great cause my other one has having problem) with one controller, and four 12-pack boxes of soda cans, a Life Savers Sweet Storybook, and I think some other stuff. My parents gave my brother and I a Scrubbing Bubbles Automatic Shower Cleaner with a couple refill bottles. I got a little box of candy and a $25 Wal-Mart gift card from my aunt and a $25 check from my grandpa.
New Year's was uneventful. I spent New Year's Eve day applying for a couple jobs online, and using the computer mostly, getting some video files to make a Sailor Moon video. I also downloaded the New Year's show for MuggleCast, a Harry Potter podcast I've recently gotten into, which I listened to late on New Year's Eve night so I could stay awake late enough to watch the ball drop on Dick Clark's Rockin' Eve. Fortunately the podcast ended at 11:52 (probably cause it was almost 2 hours long, but also cause I paused it a lot), so after that I watched the program till the ball dropped. Then I went upstairs, wished my parents Happy New Year and took a shower and went to bed.
Today Mum wanted me to get out of the house and not just sit around. So I walked to Wal-Mart to use my gift card. Unfortunately, I wore one of my new pairs of shoes which I hadn't broken into yet, so walking was a rather painful experience.
I got two packs of socks, a plastic box to store the CD's that don't have cases, a nice cotton shirt, and the book
The Sisterhood of the Traveling Pants
. My mom said I should've gotten nicer socks to wear with new clothes and that the shirt could be worn under a blouse, which means it's not nice enough to just wear by itself. So I am going to return the shirt and the socks and get nicer stuff, if I can. I'm keeping the box and the book.
The 2-year agreement on our cell phones ended today so my dad changed out our phones. We got Motorola W315 phones. Here's what one looks like: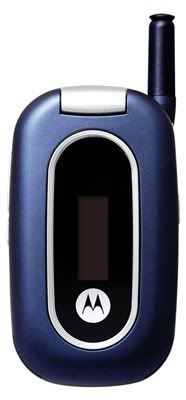 My brother pointed out it doesn't have a camera like our old phones did, which means my dad can't take pictures of our dogs all the time like he usually did. I like the phone though, even without the camera. Since it's Motorola, it'll be easier to get custom ringtones.
Speaking of Motorola, I saw a really funny Chinese Motorola commercial on this show called
Funniest Commercials of the Year 2006
. Here's a link where you can see it:
http://veryfunnyads.com/ads/25096.html
I'm pretty tired so I'm going to end here.