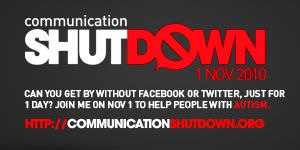 When I was writing the previous post, there was a link in my Zemanta plugin leading to an article titled "Steven Seagal to Shutdown Facebook." I was intrigued, perhaps taking the title literally, and checked it out. It turns out that Steven Seagal is one of many celebrities participating in a charity event called
Communication Shutdown
, an event being held online on November 1st (tomorrow) to raise money to help those with autism around the world. Basically, you donate a minimum of $5 (I donated $20 because I thought this cause was worth donating that much) and get an app called "Chapp" (short for "charity app"). Then, through the use of this app, you go without Facebook or Twitter for one whole day (the app lets your friends know you are doing this through connection to your Facebook and Twitter accounts), the idea being that doing so helps you experience the communication difficulties those with autism experience every day.
Being autistic myself, I thought this was an awesome thing and, as I said, I decided to join it myself. So, if any of you friend/follow me on Facebook or Twitter, well you won't be seeing anything from me tomorrow there. I posted something about this on my other two Twitter accounts (I didn't want to have to donate more than once to link all my accounts) and on my LinkedIn account. I'm going to add something to my writing Facebook and my LiveJournal some time today, and maybe even a YouTube video to spread awareness (though I may not give up YouTube tomorrow).
So, anyway, just wanted to spread the word about that. Happy Halloween!
Hmm just thought that Halloween should be an autistic's favorite holiday - you'd have to go out in public (which autistics hate) but you'd be in costume so it would be ok.
Reminds me of when we were watching
It's the Great Pumpkin, Charlie Brown
the other night. The kids go out trick-or-treating (except Linus, who's waiting for the Great Pumpkin, and Sally, who out of her love for Linus, is waiting with him), and poor Charlie Brown gets nothing but rocks. Sad.
So, anyway, Happy Halloween! Oh and check out these articles on this event, including the original one I mentioned.