[edited some on 10/16/10]
I promised to share more of my collection, so here goes.
Besides the
Sailor Moon
things I shared in the previous post (and I even edited it to add in this pin I forgot to list before), I really don't have much in terms of anime stuff. I do have a large manga collection, which thankfully I have cataloged on my computer, so I don't have to get the boxes I have them in out of my closet (I don't have anywhere to really display them right now - my bookcase is already pretty full with non-manga books - so I have to store them in my closet unfortunately).
I'll use mostly internet pics for this as I think I can find most of these. Where I can't, I'll take a picture. To make it easier for you to read through, I'll lump things into categories also.
So, without further ado, here we go.
My Anime Collection (minus Sailor Moon)
DVD's
Pokémon Diamond & Pearl 2-DVD set #1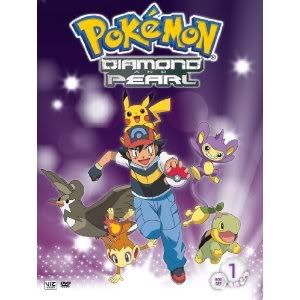 My best friend sent me this for Christmas. It's a 2-disc set containing the first 17 episodes of the English-dubbed Pokémon Diamond and Pearl anime. I confess I haven't watched this yet (*sweatdrop*), and granted, I did see a few of the early D & P anime episodes when Diamond and Pearl first started airing on Cartoon Network, but I haven't been keeping up with it. The box is nice, though.
Pokémon Wake Up Snorlax! DVD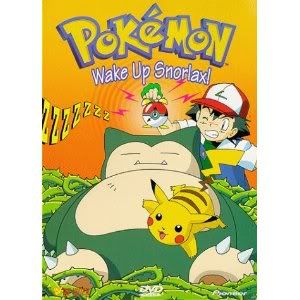 This is the thirteenth video in the original video release of the first season of the Pokémon anime and contains the episodes "Showdown at Dark City," "The Battling Eevee Brothers," and "Wake Up Snorlax!". I got this DVD from my local Hollywood Video, along with several other DVD's, all of which were on major markdown because the place was going out of business. I bought this particular one because "The Battling Eevee Brothers" is one of my favorite episodes in the Pokémon anime. (I also used to own a couple VHS videos of the first season of Pokémon, but I got rid of both of them).
"CLAMP Double Feature" DVD: Tsubasa Chronicle The Movie: The Princess in the Birdcage Kingdom and xxxHolic the Movie: A Midsummer Night's Dream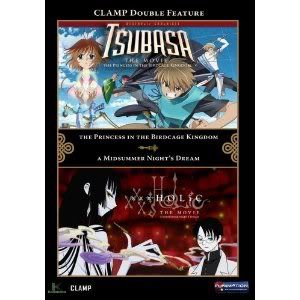 I bought this DVD at Comic-Con a couple years ago at the Funimation booth. It's a pretty good idea, to release a double-feature DVD with the movies for Tsubasa Chronicle (or Tsubasa Reservoir Chronicle, as the manga is called) and xxxHolic, since the series are so related. It was a good price too -- for about $20 I got this DVD with two movies on it, basically two for the price of one. That is the one thing I like about Funimation -- even at Comic-Con, they try to keep the DVD's they sell affordable to the average fan. The 2-DVD set contains Japanese and English voice tracks for both movies and good extras, including "visual commentaries" (meaning you can see the actors) from the original Japanese actors for both, which are pretty neat. For the Tsubasa movie, the commentary is with the actors for Syaoran, Sakura, and Mokona; for the xxxHolic movie, it's with the actors for Yuuko, Watanuki, and Domeki. Pretty cool.
Tenchi Muyo Ryo-Ohki: The Complete Series DVD boxset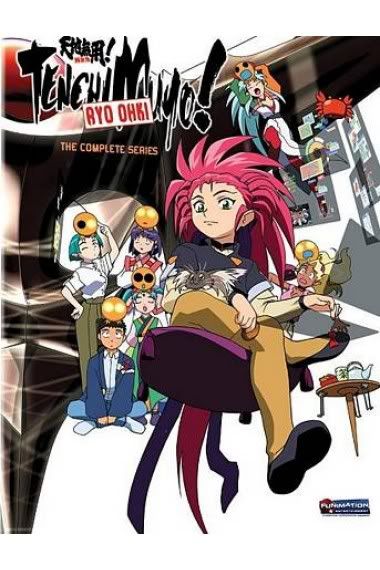 Now let me clarify: this boxset is of the entire third OAV only, not a collection of the two series from the early '90's plus the new third one (though that would be awesome!). Tenchi Muyo Ryo-Ohki: The Complete Series just happens to be the title on the DVD set. I bought this from some store - Suncoast Motion Picture Company, I think, or maybe FYE - since it was a good price. I confess, I haven't watched this yet either, but I want to. I just need to set aside time for it.
Tsubasa Chronicle English dub anime, Volumes 1 ("Gathering of Fates") and 2 ("Seeds of Revolution")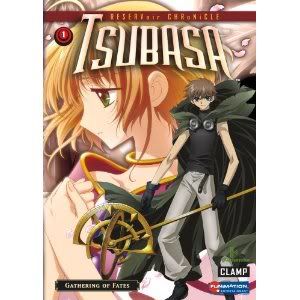 [vol. 1 shown here]
These are the first 2 DVD's of the English dub of Tsubasa Chronicle, the anime version of the manga Tsubasa Reservoir Chronicle, which is being done by Funimation and technically called "Tsubasa" (at least that part of the title is emphasized). I actually bought them at my local Borders Express, where they were sitting with some other random DVD's over by the manga section. Haven't watched them yet though. These two DVD's each contain a handful of episodes: volume 1 has 1-5 and volume 2 has 6-10.
R.O.D.: Read or Die DVD set
This is a complete-series set of the Read or Die OVA, which is set before the more well-known Read or Die TV series, R.O.D.: The TV. I bought this because I'd heard of it when looking up the TV series and wanted to watch it. I don't remember where I got it though. And, yes, I haven't watched it yet.
Panda and the Magic Serpent slim-case DVD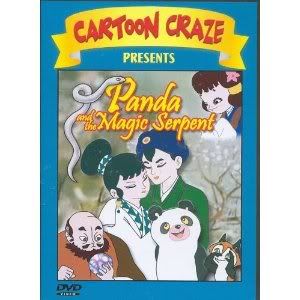 I know, not anime as we think of it, but it's Japanese and animated, so it counts. In fact, this was the first Japanese animated film to be released in color! It re-tells an old Chinese tale about a young boy who falls in love with a girl who can turn into a white serpent and about the monk who follows them thinking the girl is evil and trying to kill her. I got this at Wal-Mart for $1. It's still pretty good though, even dubbed over into English and everything. The quality's good too.
The Wizard of Oz and Friends slim-case DVD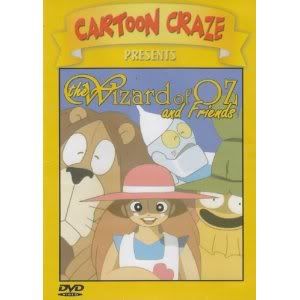 Technically, most of the cartoons on this DVD - all except the first - are ones made by Max Fleischer, a very early American animator and inventor of the Rotoscope, according to a comment I found on Amazon. Therefore, they're Western-made, but the art is kind of anime-style (similar in particular to very early anime, like Akage no An, a series from 1979 that I've been watching) so I'm counting it in this list. Haven't watched it yet. Also found at Wal-Mart for $1.
Thunder Prince slim-case DVD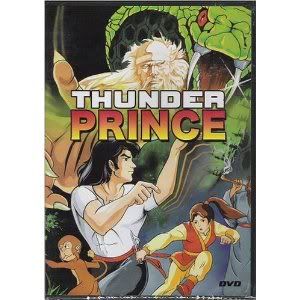 Another $1 Wal-Mart find (I think). I haven't watched this yet either, and I think it's Western-made but it's certainly anime in art style and in its Asian-based story. Basically, it's an animated film from 1987 about a prince who seeks out training in the martial arts to avenge the death of his father. I haven't watched it yet (I got the plot info from the back of the DVD).
Tenchi Muyo! The Movie Collection DVD set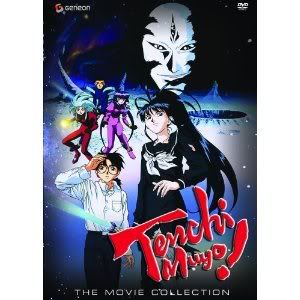 This was like a miracle in pricing -- a set of all three Tenchi Muyo movies for only about $24 at Suncoast Motion Picture Company, a video store they used to have in the local mall that stocked a lot of anime DVD's. Sadly that place went out of business. :( I bought it because I like the Tenchi movies so much and also because it was such a great price.
Tenchi Muyo! Mihoshi Special/Pretty Sammy OVA - Hybrid DVD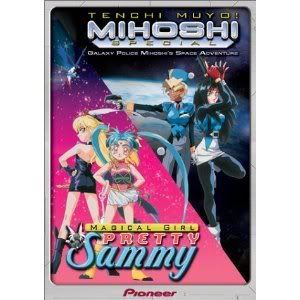 Rightstuf.com calls this a "hybrid DVD," so I'm calling it that too.
Basically, this is a one-disc DVD that contains the Mihoshi Special from the original OVA series and the three-episode
Pretty Sammy
OVA (which "inspired" a 26-episode TV series called
Magical Project S
). I can't remember where I bought it; I think it was at Suncoast again. Anyway, both specials are pretty funny and are available with Japanese and English tracks. The acting is excellent;
Tenchi
is one of the few good dubs from the early days of English anime dubs.
Pokémon: The Rise of Darkrai DVD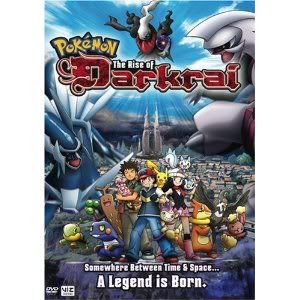 This is the DVD of the 10th Pokémon movie, in English of course (I really wish, at least for the movies, that they would include the Japanese track with subtitles. I mean, seriously, is it really that hard?!). My best friend gave it to me, either for my birthday or Christmas, I can't remember. I haven't watched it on the DVD, though I did see The Rise of Darkrai when it debuted on Cartoon Network. It's a very good movie. I also watched the Japanese version of this movie via a torrent before I saw the English version on TV, making this the first time I'd seen both versions. They're pretty much the same though, except for dialogue obviously. Basically, the plot is about trouble happening in the town of Alamos (modeled on Barcelona) due to a fight between Dialga and Palkia in an unseen realm, how Darkrai gets blamed for it, and how Ash and friends try to stop the problem.
Pokémon: Lucario and the Mystery of Mew 2-Disc Collector's Edition DVD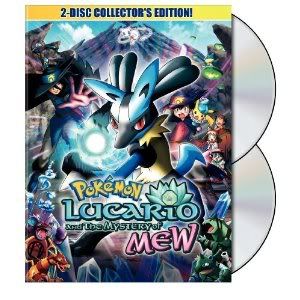 This is the DVD for the eighth Pokémon movie and the first to feature the Pokémon USA cast. I bought it at Target. The 2-Disc Collector's Edition includes an extra disc containing The Mastermind of Mirage Pokémon, an animated TV special meant more or less to introduce the PUSA cast. I later watched the Japanese version of this via a torrent; again, it's pretty much identical. One thing I do like about the Japanese version though is that the ending song ("Hajimari no Uta" or "Song of Origin") is sung by Puffy AmiYumi, one of my favorite j-pop bands!
Generator Gawl: Perfect Collection DVD boxset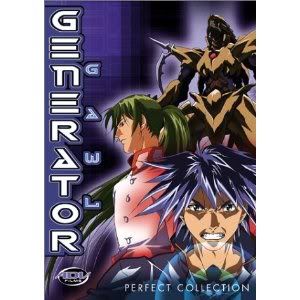 This was the first anime boxset I ever bought, which I got (with my mom's help, as I didn't have a credit card then) from Amazon. An ADV release, this 4-disc set contains all 12 episodes of this very obscure anime, with both Japanese and English tracks, along with some decent extras like creditless opening and ending sequences. It's worth it if you've seen the 4 VHS releases of this anime and want to own the whole series. Also, the VHS releases only have the dub, whereas this has both. The dub is actually very well done though, and its cast includes Vic Mignogna, now known as the voice actor for Edward Elric in the Fullmetal Alchemist dub, and Monica Rial, who now does dubs for Funimation.
Magic Knight Rayearth Season One 15th Anniversary Remastered Boxset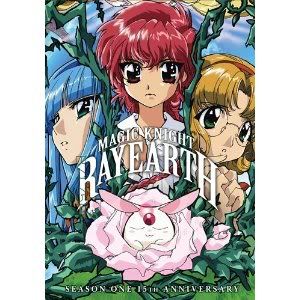 I had read in Otaku USA that MKR was getting remastered, but to find this 4-disc boxset - and for only $40! - really tingled my CLAMP-fangirl senses. Not to mention that Magic Knight Rayearth is one of my favorite anime series. I bought this set for, as I said, $40 at the Media Blasters booth at Comic-Con this year. While I have seen all of season one of MKR already, I still wanted to buy this set and I've got it sitting on my desk ready to be watched, though the case is getting a bit smushed.
Nausicaä of the Valley of the Wind 2-disc DVD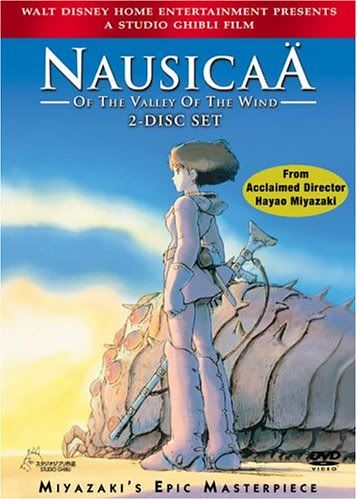 I consider Miyazaki films to be anime, so I'm including this and the next two in this list. I bought this (I think) at Target. The 2-disc set contains both the Japanese and English audio tracks and lots of extras, including the usual Pixar-Miyazaki "Behind the Microphone" special with the English voice actors and the entire movie in storyboard format, which is basically what the second disc is for. It's one of Miyazaki's earliest movies, but it's still great.
Kiki's Delivery Service Special Edition 2-Disc DVD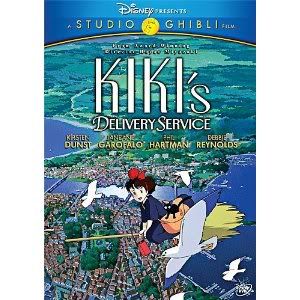 I bought this at Target at the time the DVD for Ponyo came out. It's the first Miyazaki film I saw and it's still my favorite (I even have the official English artbook for it!). I haven't watched it on this DVD, only initially on VHS (dub only) and then in Japanese on a DVD I either rented or borrowed from the library. From its Amazon page, it seems to have good special features.
Ponyo 2-Disc DVD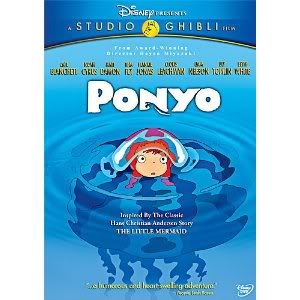 Having seen the English version of Ponyo in theaters, I was determined to get it on DVD as soon as it came out, not only because I liked the movie itself but also so I could see the Japanese version. The English version is really good, featuring great voices from Liam Neeson and Cate Blanchett to Noah Cyrus (Miley's little sister) and Frankie Jonas (the Jonas Brothers' little brother). I haven't watched it yet on the DVD.
Books
CLAMP no Kiseki Volumes 2, 4, and 5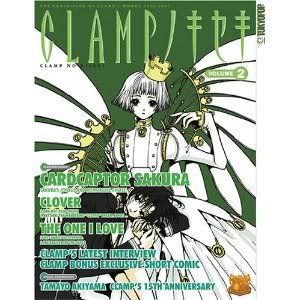 These are English versions of volumes from a special set of 12 magazines that were released in 2004 as part of CLAMP's 15th Anniversary celebration. Each contains lots of art, info, and special content. I bought these three volumes at Comic-Con this year at a booth that was selling them for $10 each or $8 each when you bought three or more. Considering these usually retail for $29.99
each
, to get three for about $27 is pretty awesome. Each volume is devoted to one or more CLAMP series and also come with collectible chess pieces of different CLAMP characters (see mine below under "toys/plushies/items"). Volume 2 is devoted to
Cardcaptor Sakura
and
Clover
; Volume 4 is devoted to
Magic Knight Rayearth
and
Angelic Layer,
and Volume 5 is devoted to the "CLAMP School" trilogy (
CLAMP School Detectives, Man of Many Faces
, and
Duklyon CLAMP School Defenders
).
The Art of Kiki's Delivery Service
This is an English artbook for the film
Kiki's Delivery Service
. It is an awesome book, I love the pictures. It has the script for the movie in it also, with pictures scattered here and there. Awesome! I bought this at a booth at Comic-Con last year called The Comic Cellar that had this and a couple other Studio Ghibli artbooks (I also bought a
Tales of Symphonia
artbook there). I think it was about $30.
CLAMP Mokona's Okimono Kimono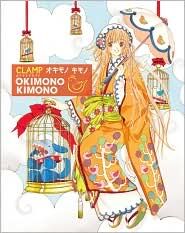 This is sort of anime-related as it is by Mokona, the main artist of CLAMP. Basically, it's a nice little book about kimonos and the wearing of them, with designs from Mokona herself. It also includes a cool interview with Ami Onuki of Puffy AmiYumi! I got this book this year from the Dark Horse Manga booth at Comic-Con (Dark Horse has recently acquired rights to some of CLAMP's series which had previously belonged to Tokyopop and is going to publish omnibuses of them, like of Cardcaptor Sakura for instance).
xxxHOLiC ANOTHERHOLiC Landolt-Ring Aerosol
This is a novel based on CLAMP's series
xxxHolic
that was written by Nisio Isin, a fairly well-known Japanese novelist and manga writer who also wrote a
Death Note
novel (which was also, like this novel, released in English) as well as many original novels. Basically, it contains three stories set in the
xxxHolic
universe, the first of which was the basis for episode 17 of the
xxxHolic
anime. The second and third stories are pretty similar to the manga as well. Even better, I don't think any of the stories assume the reader is familiar with the
xxxHolic
storyline, so it works even for people who aren't fans of the series. I pre-ordered this from the internet.
Toys/Plushies/Items
[Note: most of these pictures are dim because I took them at night in my room with my cell phone, with a "Darkness" white balance setting to get the best amount of light possible]
Pokéball Keychain with Eevee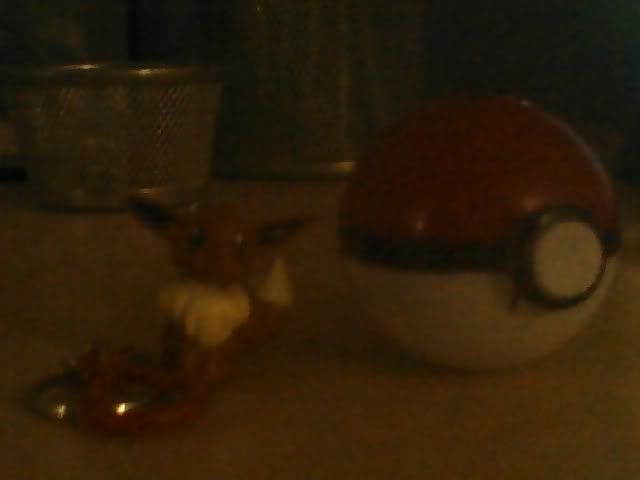 This is a little toy I got somewhere - Target maybe - that is a Pokéball on a keychain that comes with a little Eevee figurine that fits inside. Cool, huh?
Master Ball on a string with Squirtle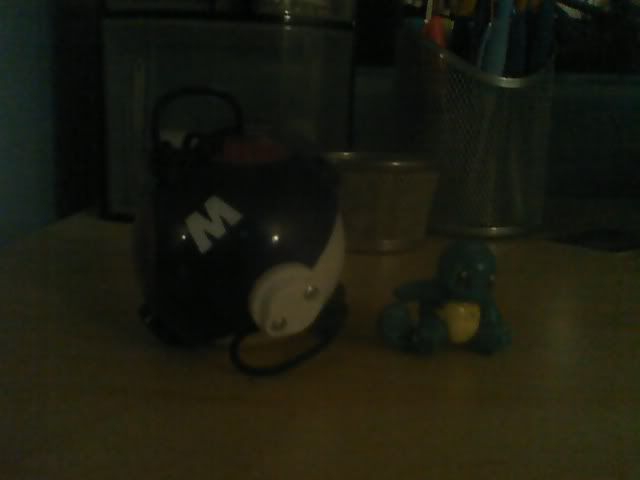 This is a toy I bought at Comic-Con last year, since I'd seen this sort of toy before but never bought one. Basically it consists of a toy Master Ball on a string with a little Pokémon figurine that goes inside, Squirtle in this case.
Plusle keychain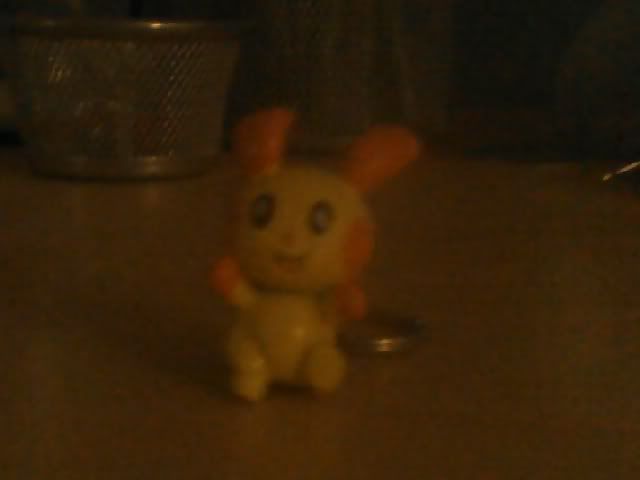 I bought this last year at Comic-Con at a booth for a place called GameRave, which sells tons of video games and action figures and stuff. They had tons of little Pokémon figures in a huge flat box that you could get as charms, or - for $3 more - a keychain. I opted for the keychain. I went for Plusle because that's my partner Pokémon in the first Pokémon Ranger game.
Inflatable Ultra Ball
[no picture, sorry]
I got this for free from the Pokémon booth at Comic-Con 2009 along with a free TCG promo card and a free poster for Pokémon Mystery Dungeon: Explorers of Sky (I still have the card, but I recently got rid of the poster because I didn't like it anymore). I have not been able to get this inflated; maybe when I get it inflated I'll add a picture of it.
Vaporeon Bouncy Ball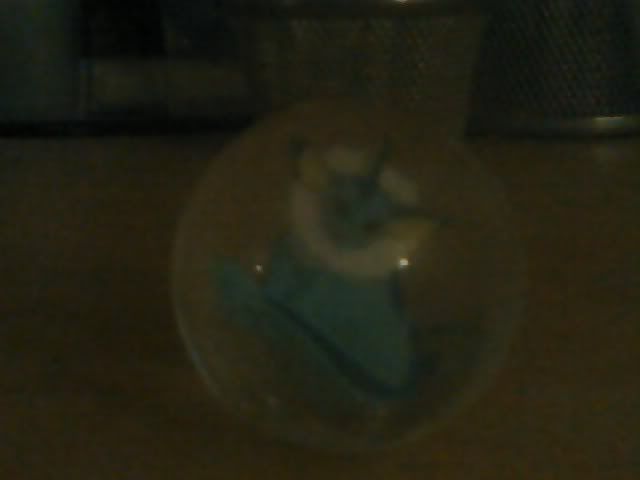 I'm not entirely sure where I bought this, I think at Comic-Con though. Basically, it's a clear bouncy ball with Vaporeon in it. I like bouncy balls and Pokémon, so I was into it.
Piplup Flat Vending Machine Toy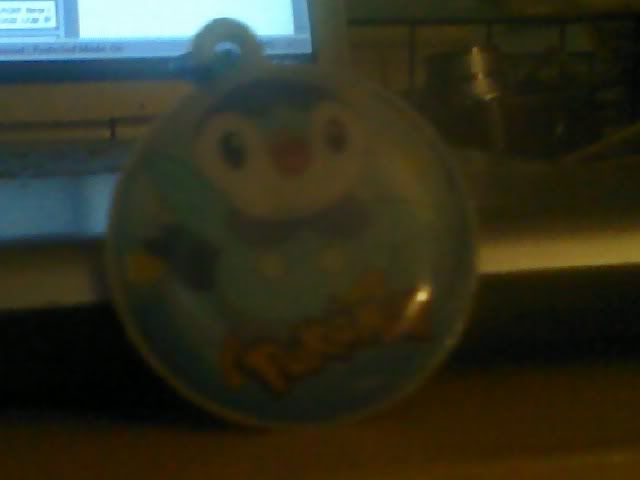 I forget exactly what kind of toy this is. It did have a cord attached to it, but I cut it off. I think it's a cell phone charm or something. I got it from one of those cheap vending machines, I think one of the $1 ones.
Totoro pin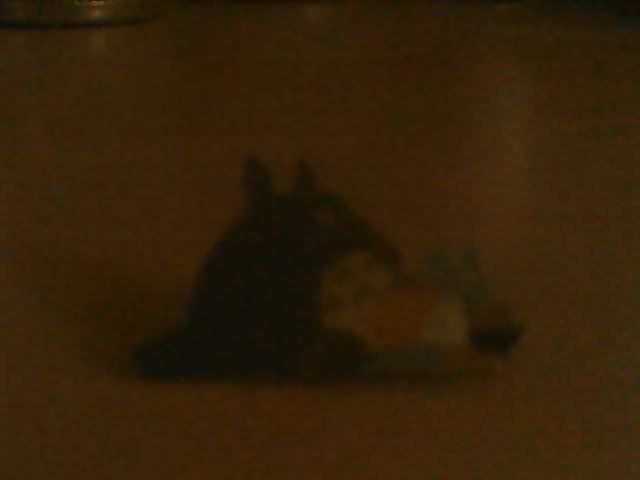 I got this at the county fair at the same place I got the Sailor Moon pin and the 12" Sailor Moon doll (from the previous post). Basically, it consists of the big grey Totoro sitting with the little Totoros at its feet. Kawaii!
Grey Totoro plushie with suction cup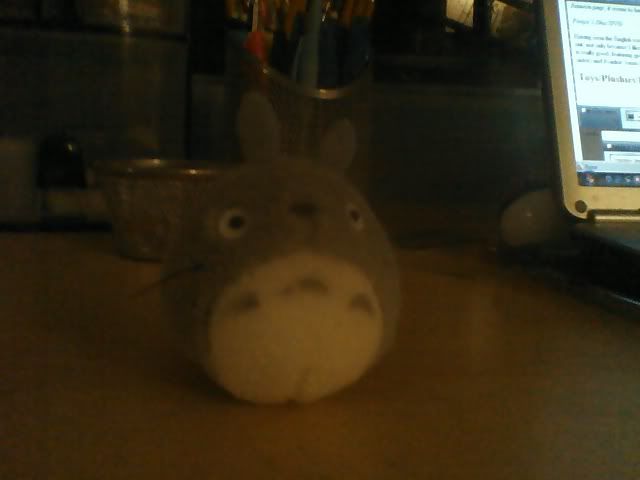 I got this at Comic-Con at a booth with a lot of Japanese things. It did originally have a suction cup attached to it so you could attach it to some surface, but I cut it off because it didn't stick well. I bought this because I like the movie My Neighbor Totoro (by Hayao Miyazaki) and also possibly, in retrospect, because of how Ken Jennings carried a small Totoro plushie for good luck when he was on Jeopardy!.
Piplup Plushie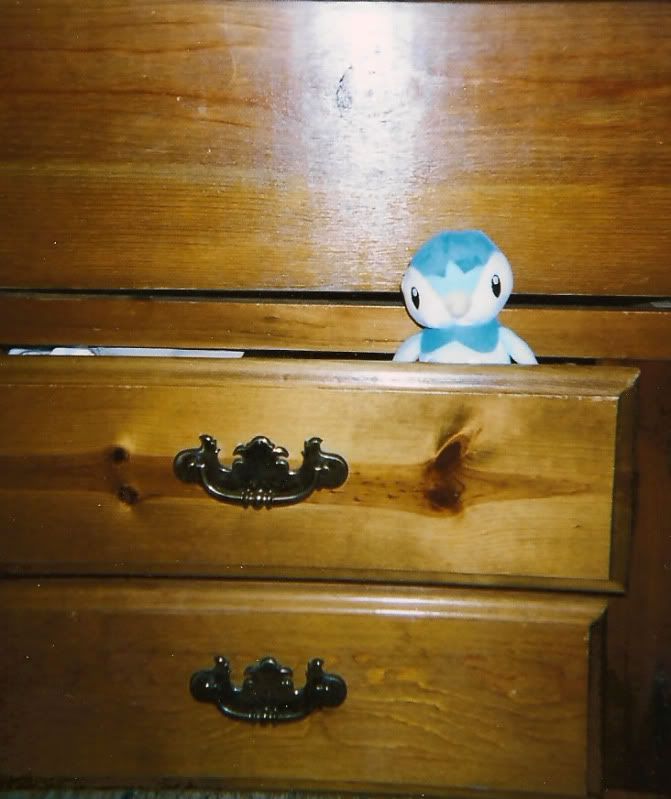 This is a small plushie I got at Target of Piplup, one of my favorite Pokémon. Kawaii, ne? I took the picture above of it sticking out of one of the drawers of the bed I then had.
Eevee Plushie
This was my first Pokémon plushie; I think it was part of the anime stuff I bought off my best friend. It's a decent size.
Shaymin Land Forme Plushie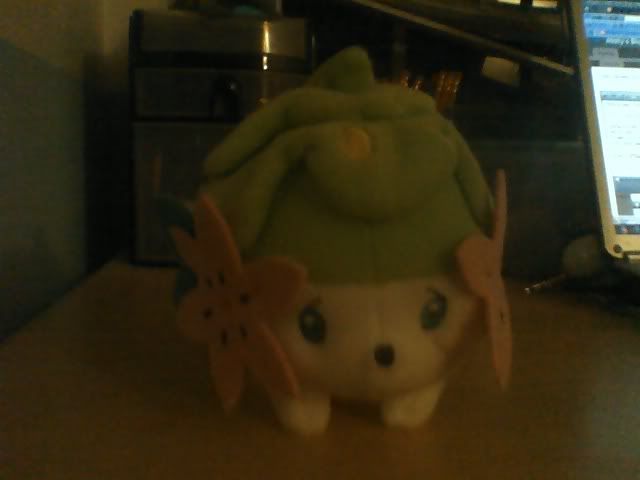 I bought this last year at Comic-Con for about $20. I love Shaymin and this plushie is really cute too. My main memory of buying this plushie is that the guy selling me it figured out what I owed using his iPhone since he apparently didn't have a register. Still, it turned out ok.
Pokémon Diamond and Pearl Deluxe Action Figure Trainer Set - Dawn and Buneary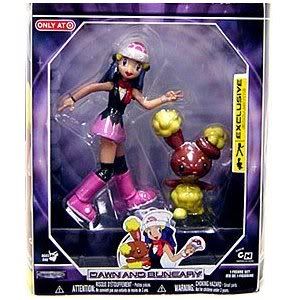 The packaging on this set says "Only at Target," but that's a lie -- I've seen it elsewhere. Basically, there were at least five of these Diamond and Pearl trainer-and-Pokémon figure sets -- Ash and Starly, Ash and Aipom, Dawn and Buneary, Brock and Sudowoodo, and Brock and Croagunk (but strangely, no Ash and Pikachu). The figures in this set are good quality, but they tend to fall over easily.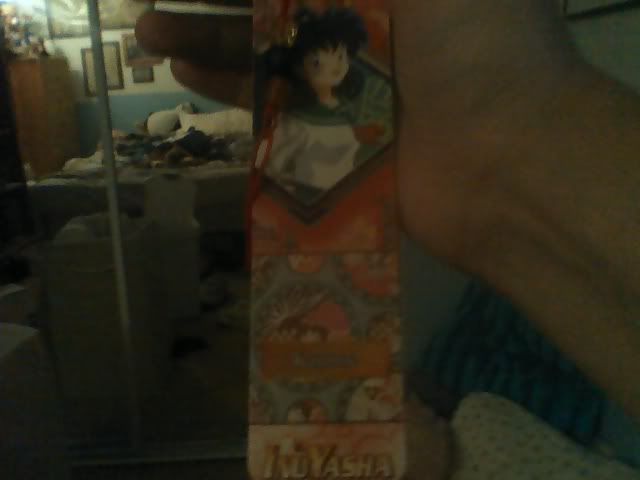 This is a bookmark I bought at (I think) Borders which features Kagome from Inuyasha on it. I like Kagome for some reason even though I've only seen a few episodes of Inuyasha that I DVR'd off of Adult Swim, so that's why I bought this bookmark (plus I like bookmarks).
CLAMP no Kiseki Collectible Chess Pieces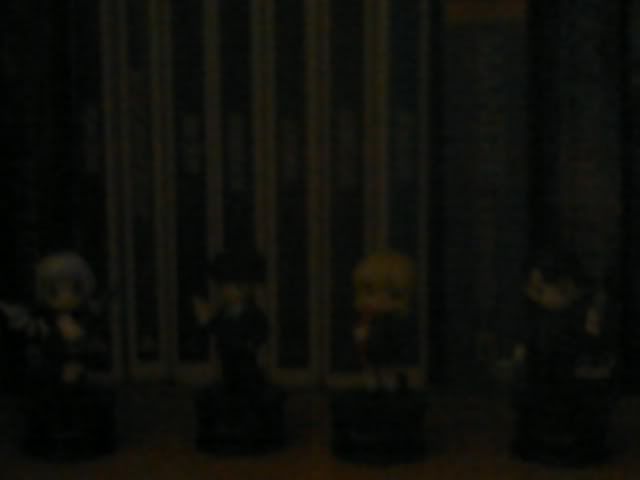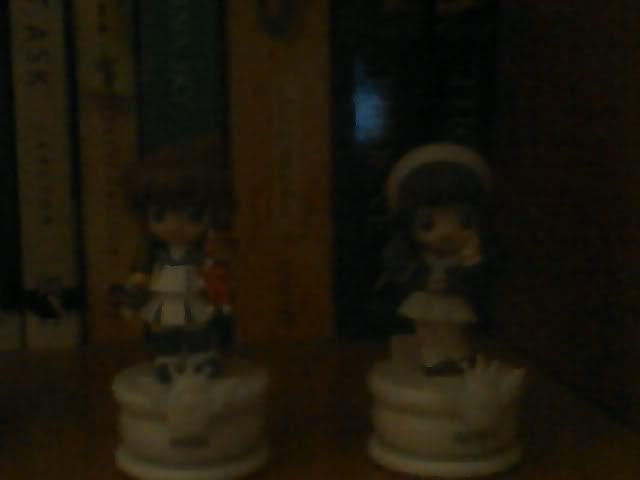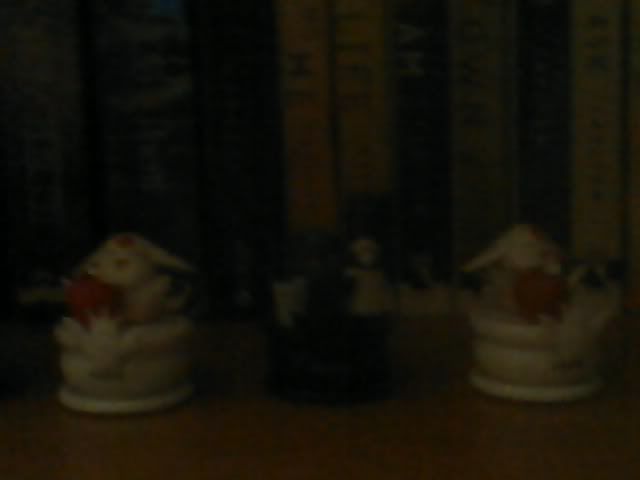 Each volume of CLAMP no Kiseki comes with collectible chess pieces of various characters from various CLAMP series published through 2004. In Japan, they had a promotion that allowed you, once you'd bought all the volumes, to send away for the last two pieces (the Kings, Cerberus and Spinel Sun from Card Captor Sakura), a chess board, and boxes to keep the magazines in. Sadly, they didn't do that in the U.S. So far, I have: Bishop Watanuki Kimihiro (xxxHolic), Bishop Sakurazuka Seishirō (Tokyo Babylon), Knight Imonoyama Nokoru (CLAMP School Trilogy), and Rook Sū (Clover) on the black side, Queen Daidoji Tomoyo (Card Captor Sakura) and Rook Suzuhara Misaki (Angelic Layer) on the white side, and three pawns -- one black, two white -- that are of Mokona Modoki. The white pawns are of Mokona Modoki/Soel from Tsubasa Reservoir Chronicle, while the black ones are of Mokona Modoki/Larg from xxxHolic.
Trading Cards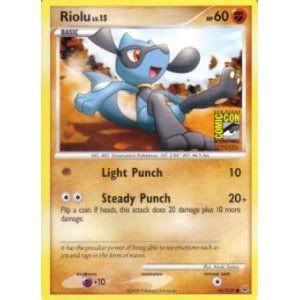 I own many trading cards - for both anime and non-anime series (the non-anime series including everything from Lord of the Rings to the Christian trading card game Redemption) - but aside from the Sailor Moon ones talked about in the first post, I also own a few cards for Tenchi Muyo and the lesser-known series Initial D (which I've never seen, I came across packs of the trading card game for it and bought one on a whim; the series is about drag-racing, btw).
My pièce de resistance with trading cards though is my huge collection of Pokémon Trading Card Game cards. I've been collecting cards for the Pokémon TCG since the TCG has existed in the U.S., so basically since Base Set 1 was released in 1998. I haven't played a serious game of it with anyone for a long time - the most recent time I played was last year at Comic-Con at the Pokémon booth, and that was a simplified 30-card game (but I won, and I'd never won a TCG game before then!). Aside from the normal TCG cards, I also own a large number of the Topps Pokémon trading cards, including almost all of the Pokémon: The First Movie set (which includes cards from both the main movie and the Pikachu's Vacation short).
I also own a few Japanese cards (from the two Japanese booster packs I bought - one for the original Gym Leaders expansion and the other for the original Team Rocket expansion - and also the Tropical Island Jungle 3-card set from the "Southern Islands" promos) and a few TCG cards in French, German, and Italian (they stick booster packs of those into the multi-booster pack sets sometimes). I don't have a lot of promos, just the aforesaid "Southern Islands" cards (which were promo cards given out in Japan at theaters showing Pikachu's Vacation), some holo cards with foil set titles on them that might be promos (I'm not sure though), and the Comic-Con promo cards from the last three years (Shellos West Sea [2008], Riolu [2009], and Aipom [2010]).
Music
Princess Mononoke Japanese soundtrack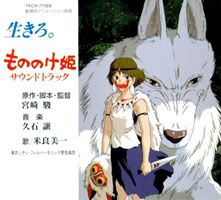 I got this at Comic-Con last year at the Comics n' Stuff booth. Princess Mononoke isn't my favorite Miyazaki film, but it was one of the few soundtracks I recognized from what this booth was selling. The music is very good though, which with Joe Hisaishi as the composer (as usual) should be no surprise.
Tsubasa Chronicle Original Soundtrack Future Soundscape II CD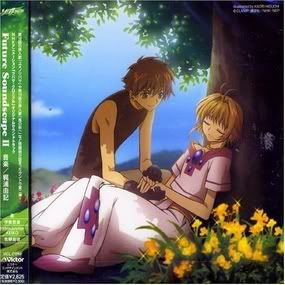 This is a soundtrack for the Tsubasa Chronicle anime. I bought it at a booth at Comic-Con last year called Kinokuniya Bookstore. They have a ton of great books, including many in Japanese, and usually a small selection of CD's. Their CD's are expensive, though - I paid like $30 for this one! If you ever buy from them at the San Diego Comic-Con, do it on the day they're not charging sales tax (a banner proclaiming this will be displayed on their booth when they are doing this), especially since sales tax is high in California.
Ishida Yoko Para Para Max US Mix CD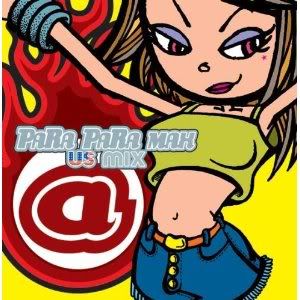 Ishida Yoko, a famous Japanese singer who has sung songs for animes like Sailor Moon and Prétear, among others, also released a number of CDs of songs redone in the "Para Para" style, which is basically a fast dance-remix style. This is one of three CDs in this series that were released specifically for the US. I bought this particular one because it had "Mezase Pokemon Master" (the Japanese Pokémon theme song) on it. I bought it from Suncoast Motion Picture Company when they were going out of business. I initially bought the wrong one and went back and exchanged it for this one. This CD includes a good mix of songs, including "Mezase Pokemon Master," "Zankoku na Tenshi no TE-ZE" (the Evangelion opening theme), "A Round Dance - Revolution" (the Utena opening theme), and the catchy opening themes to Akazukin Chacha and Nurse Angel Ririka SOS, two old mahou shoujo series.
Pokémon: 2.B.A. Master CD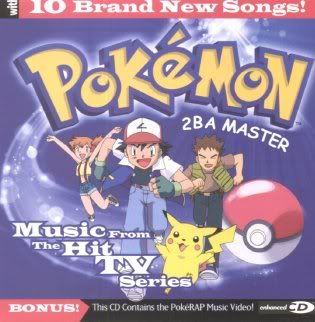 I bought this CD off my best friend. This was the first Pokémon soundtrack to come out in the U.S. and it contains some cool songs, including "Misty's Song" and "Pokémon (Dance Mix)," which was considered at one point as the potenital theme song for the show. If you put the CD in your computer, you can watch a music video for the original Pokérap (the audio of which is also on the CD).
Totally Pokémon: Music from the Hit TV Series! CD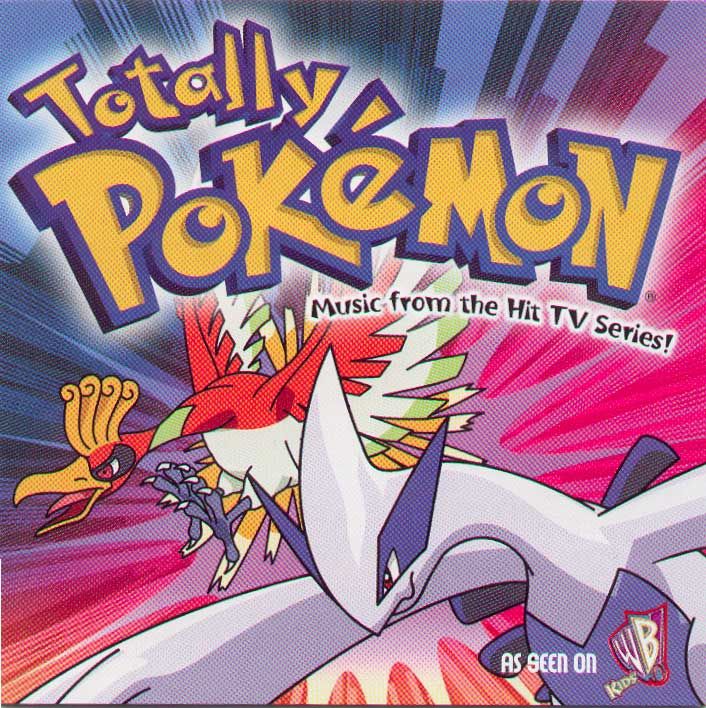 This is a Johto-era Pokémon soundtrack. I don't remember exactly where I got this from, Barnes and Noble maybe. It has some good songs like "Pokémon Johto," Brock's song "Two Perfect Girls," and the Johto version of the Pokérap. The CD also includes karaoke tracks for all the vocal tracks on the CD. The funniest track on this CD though is "Song of Jigglypuff," which is a song about how great Jigglypuff is. It's totally sappy but it's hilarious.
Pokémon X: Ten Years of Pokémon CD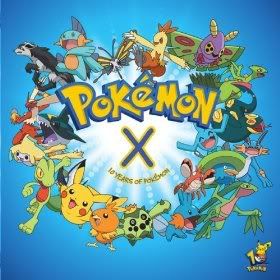 First of all, I really like the cover of this CD. Anyway, I ordered this from Amazon once I became aware of its existence. It includes the opening themes from the Indigo League season to the most current season at that time, Battle Frontier (all of which are TV-size except for the first season one, which is the full version found on 2.B.A.Master), as well as "2 B a Master," "Together Forever," the original Pokérap, and "Double Trouble" from the 2.B.A.Master CD, the Hoenn Pokérap, and three songs from the Battle Frontier season ("Best Friends," "Stay Together," and "Go Pokémon Go").
***
Okay, so maybe I have a big anime collection after all. I'll try to be brief with my manga collection then, and exclude the pictures.
My Manga Collection
Series with asterisks (*) mean I own the entire series.
CLAMP Mangas
~ Chobits*
~ Magic Knight Rayearth*
~ Magic Knight Rayearth II*
~ CLAMP School Detectives*
~ CLAMP School Defenders Duklyon*
~ Man of Many Faces*
~ Card Captor Sakura: Master of the Clow*
~ Card Captor Sakura
~ Tsubasa: RESERVoir CHRoNiCLE
~ xxxHolic
Non-CLAMP Mangas
~
Tokyo Mew Mew
*
~ Tokyo Mew Mew A La Mode
*
~ Peach Girl: Sae's Story
*
~ R.O.D.: Read or Die
*
~ R.O.D.: Read or Dream
*
~ Codename wa Sailor V (French version)*
~ Pichi Pichi Pitch Mermaid Melody
~ Pokémon (Toshihiro Ono)
~ Pokémon Adventures
~ Full Moon wo Sagashite
Western-produced manga
~PowerMark* (Christian series)
~"W.I.T.C.H."
graphic novels
~Tomo
(Christian series)
~Amazing Agent Luna
~Manga Shakespeare: Romeo & Juliet
~Manga Shakespeare: Hamlet
Yeah, that's my manga collection. But then I've more or less been collecting manga since 2003.
I'm going to stop here because I agreed to come in earlier to work tomorrow so I need to go to bed. Good night!