Today I went to see a production of Gluck's opera
Orpheus and Eurydice
at Palomar College, a community college near me. I had heard that it was happening a long time ago when I picked up a brochure about Palomar's 2008 Performing Arts season, but only in the last few weeks did I realize it was coming up so quickly and actually make plans. Though I had to leave class early to make the 4pm performance today. But today was the only day that worked out -- I could've gone to the 8pm Saturday shows but my mom kept asking me if there was a matinée, so I'm guessing they didn't want to have to drive out there to pick me up. And I couldn't make the Sunday 2pm matinées cause of work.
Anyway the opera was held in the Performance Lab, not the school's actual theater. The Lab was basically an open area in the middle with an orchestra box in the back and chairs on sets of risers on the sides. When I came in, they said to head towards the far side as they wanted to fill those seats first. To do this, you basically had to walk across the "stage," where the actors were already positioned (though the opera had not yet started), so that was kinda weird. But anyway the opera was good, but surprisingly short (only a little over an hour). Although it
is
only a three-act opera, so I guess one would expect it to be short.
The opera has only three principal characters: the two title characters and Amor, the god of love. All three of these were played by women, even though both Orpheus and Amor (a.k.a. Cupid) are male. But then Orpheus in this opera is usually played by a woman nowadays because a certain kind of voice is needed for that part. It was traditionally done by a male with the vocal range of a female. So now it is done by counter-tenors (tenors who can sing alto or mezzo-soprano) if a male plays the role, but more often a woman who can sing alto or mezzo-soprano plays the role, as was the case in this performance.
The woman singing for Orpheus was a special guest, a Palomar graduate, and she did very well though it was difficult to understand the words she sang (despite the fact the opera was being performed in English, rather than Gluck's original Italian or his later French revision).
Eurydice was played by a girl who during the rest of the opera was part of the chorus and also an understudy for Orpheus's part (interestingly enough). Her dress was very pretty. It was all gold and very much in a wedding style, befitting Eurydice having died right after getting married.
The last part, Amor, was played by a girl who is only 16 and was making her operatic debut with this opera. She was really, really good for only being 16. And you could actually understand her a lot better than the other two principals. Maybe it was because she was always toward the back of the stage and I was in the back row (since it was highest and thus provided the best all-stage view) that I heard her the best. I'm not sure. But anyway she was very good.
The other parts (the mourners in Act I, the demons and the blessed spirits in Act II, and the celebrants at Orpheus and Eurydice's reunion at the end of Act III) were played by the chorus, made up of other members of the Palomar Chamber Singers. They were also easier to understand most of the time.
The story was interesting because the ending was a twist on the ending of the original myth of Orpheus & Eurydice. The original myth ends with him losing her to death a second time because he looks back at her when they are escaping Hades, disobeying the gods' command. In Gluck's opera, Orpheus
does
disobey the command and lose Eurydice again, but the story
doesn't
end there. In the opera, Orpheus is so grieved at losing Eurydice again that he decides to kill himself so he can be reunited with her. Then, just as he is about to do so, Amor appears to stop him. Amor then tells Orpheus that because of his love and devotion, he will be able to get Eurydice back despite the fact that he disobeyed the gods' decree and looked back at her before it was safe to do so. Amor then brings Eurydice back to life, and the two are reunited and live happily-ever-after.
Somehow this ending makes more sense for an opera or play, since a sad ending is kind of depressing for a play (although many plays do end sadly, like Shakespeare's tragedies and
Our Town
). And Gluck does enough with the plot to make the new ending possible and not just a cheesy addition.
My printmaking class seems sped up now, probably cause
CONTINUED AT 8:43 PM
Sorry had to go down and eat dinner.
Anyway, my printmaking class is speeding up, probably cause it's near the end of the semester. I assumed we were doing line etchings next, so I brought in an image for that and did an etching of it. I printed some prints of it this morning before class. But everyone else seems to be doing aquatint (a different technique) right now so I'm confused. At any rate, the teacher said today (as did a fellow student) that the lines needed to be deeper, which means they need more time in the nitric acid bath. The teacher told me today though to at least put asphaltum on it and put it under the heat lamp, which I did, using my personal mix of asphaltum (well, the asphaltum's not mine, but I brought in my own jar for mixing it and thus ended up with my own mix). I did so, although I wasn't able to do anything with it cause I had to leave early to get to the opera, when the teacher was still giving a lecture on matting our prints.
The problem is the class is not very structured so it's difficult to keep up with what we're supposed to be doing at any given time, especially now that everyone seems to be doing something different.
Finals time is coming pretty close, so I am already trying to plan my collection of prints for the final. I have a pretty good breadth of work now, so there's quite a bit to choose from. I have to submit a minimum of 5 prints. I will probably submit one of each of my two blockprints, one copy of my Plexiglass etching, one copy of my metal etching (candle), and one of my line etching -- out of what I have so far. This will provide a variety of my work.
I volunteered one of my candle etchings to get matted today as an example (since I was the only one with a print on hand -- I had just pulled a bunch of my stuff off the display board per request from Hollis, the T.A. -- so I had a bunch of prints in my folder), so at least I have an example to go with. I will probably just single mat my pieces since it is easier, and also I missed most of the double matting explanation since I had to leave early.
I had to come up with a name on the spot for my etching when he matted it, so I went with the name I already had in my head from a sample sketch of it -- "The Scribe's Table By Moonlight." It's an etching of a taper candle on a table with scrolls and an inkpot next to it, with a window in the background and a moon in the sky outside the window.
I think I have tentative names for the pieces I'm considering for the collection, except for the first blockprint. The second blockprint will simply be called "Yosi" since it is a blockprint of Yosi from
PowerMark,
or maybe "Yosi (After
PowerMark
)" if I choose to acknowledge the source of the picture. The Plexiglass etching will probably just be called "Cornelia and Elyon" since that's what it's an etching of (unless I think of something more creative). The candle etching will be called, as aforesaid, "The Scribe's Table By Moonlight." My line etching will probably be called "Fairy of Night," after the original name given to the image I found.
Here is that image, btw (sized down to fit the post):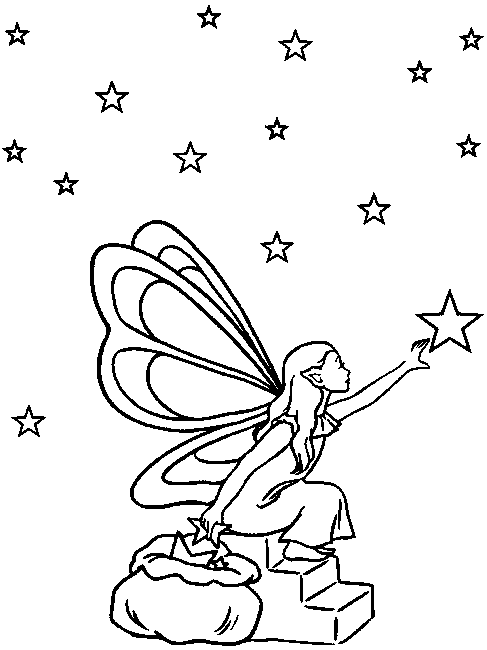 My etching of it is smaller though -- it's on a metal plate that's about 3 x 5. It's also a mirror image of this cause I traced it onto sketchbook paper using the light box in order to reproduce it in pencil (you need to draw it in pencil in order to be able to transfer the image onto the plate - when you transfer the image, even after getting off any excess paper that stuck to the plate, the image remains cause of the graphite in pencil lead).
Hold on while I take my laundry down.
Ok, I'm back.
I just have to hope and pray that things work out ok.
Speaking of school, I need to get things in order with graduating, etc. I got the order form for my cap and gown. I need to send that in soon. I just talked to Mum and she said there wasn't any point in ordering announcements, so I'm going to just order the basic package with no announcements.
I also submitted my "intent to enroll" tonight for CSUSM and I am now waiting for the fall schedule to be official so I can plan my classes better. They delayed it again, now till the 24th. Grr.
I shall have to plan soon for getting my final transcript ready to send to CSUSM and getting my IGETC certification. I think I have to get immunized too. Gosh I hope I didn't miss that deadline.
Found the flyer. It says to contact Health Services 6 months before you plan to transfer. I start in August, which means I should have contacted them a couple months ago. Oops. I better call them tomorrow.
Basically the thing with immunizations is that the state school systems require them. They are immunizations for tetanus, MMR (probably Measles-Mumps-Rubella), hepatitis B, and tuberculosis (TB).
Anyway, moving on...
MuggleCast pulled another bad April Fools' Day joke. The worst part about it was, I actually fell for it this time, unlike last year where I knew for sure that it was a joke. (See
this post
about that, as well as
this post
, giving my reaction to them finally confessing it was a joke).
Anyway, the joke was about them diversifying the podcast to cover more fantasy fandoms. The show was going to be devoted not just to Harry Potter, but also to Narnia, Lord of the Rings, and a new series called
Twilight
that is about a girl who falls in love with a vampire. But I guess it isn't true. I was sad to hear this, as I had interest in trying to make a podcast that discussed multiple fantasy fandoms, but hadn't succeeded in figuring out how it would work. Their new show, had it actually happened, would've helped me figure out how to do such a podcast.
They do talk quite a bit about
Twilight
on both MuggleCast and now PotterCast too; I am kind of tired of that talk because I don't intend on reading
Twilight
. I'm not into vampire stories, especially after the scare I had reading that vampire-related book series that Que started lending me that I had a nightmare about.
Next little bit...I know this is more than a week too late, but I'll say it anyway: Michael Johns is gone from
American Idol
. *sigh* Oh well. I did like him and I am sad to see him leave. Kristy Lee Cook (the contestant ousted this week) I didn't care about as much. I always said she looks like some girl from the Baby-Sitters Club. Although looking at pictures now, I realized she doesn't look like Kristy Thomas, like I kept saying. Maybe like Larissa Oleynik (Dawn from the BSC movie), particularly how she looks in
10 Things I Hate About You
. Anyway, the big shock with Michael Johns was that he was eliminated during Idol Gives Back week, whereas last year -- when they started Idol Gives Back -- there was no elimination that week.
I was reading something recently that said that the amount of viewers
American Idol
gets has dropped by more than a million since Sanjaya left. This sounds strange to me -- did he really bring in so many viewers that his absence would have that much of an impact? If so, why?
Mum was wondering what had happened to Melinda Doolittle, the third place finalist from season 6. It turns out she is currently recording an album, due to come out "in June or sooner," and she's going to be joining Michael W. Smith and The Katinas on a Christmas tour. She's also going to be on Smitty's (as Michael W. Smith is often nicknamed) Caribbean cruise tour this summer, according to Smitty's official website.
I have found out that a girl I'm friends with from riding the bus, Chrissy, is a Latter-Day Saint, or Mormon. She is not real Bible-thumper though (or whatever the Mormon equivalent of that is), despite the Mormons' focus on missions. She does carry around a book of what she calls "Scriptures," which contains the Christian Bible and the three Mormon "holy books" (the
Book of Mormon,
the
Doctrine and Covenants,
and
The Pearl of Great Price
), all in one small volume (known as the "compact version," according to Chrissy). She has this when I see her on my school days, because she goes to "Institute" (the Institute of Religion) on those days, a class/club she goes to to study the kind of stuff that at our age as a Mormon you are supposed to study. There is an actual Institute building in our local area, but to better serve local university students (the age group targeted by the "Institute of Religion" concept), an on-campus group for this purpose has been formed at CSUSM, where Chrissy currently goes to school.
I have tried to be respectful of Chrissy's beliefs, though they differ a good deal from mine. Sometimes it's best not to really say anything to a person about their beliefs, because it can just escalate into something ugly, or feel awkward. Like with Ron (the FAST bus driver) and his beliefs that the end times are happening right now. He cites Scripture to attempt to back up his claims (mainly citing Daniel, not Revelation) but doesn't convince me at all. Mum said, when I told her Chrissy was Mormon, and how I'd responded to it, that it was good to be respectful of Chrissy's beliefs, and that if I was respectful about them then maybe she'd grow to be respectful of my Christian views.
Speaking of which, I brought up (carefully) on Tuesday to Chrissy the fact that I had been watching CNN during lunch (the only channel they play in our school cafeteria) and that they were reporting on what had happened with the ranch in Texas. For those not aware of what I'm talking about, there is a recent news story about a girl who called an abuse hotline to report being abused, and they tracked her down to this ranch in Texas where a group of fundamentalist Mormons are practicing polygamy, despite the fact that the non-Fundamental LDS no longer practice it, and that, by federal law, polygamy is illegal. I asked her what she thought about that, coming from where she does. Her only response was that there were a lot of difference between those sorts of Mormons and her sort of Mormons. I left it at that.
I just went downstairs to check my laundry and the baseball game (Rockies vs. our home team, the Padres) is now in its 14th inning, and supposedly still 0-0. Dang.
Ugh, my nose is so runny. I hope I'm not getting sick.
My friend Tammy, who I hadn't gotten an e-mail from in months, sent me (and the rest of her address book) an e-mail with a link to a YouTube video of an elephant painting a self-portrait. It was kind of cool, but the video itself was kind of boring, since very little went on for a while. Watch it yourself and see if you agree:
http://www.youtube.com/watch?v=He7Ge7Sogrk
.
Speaking of YouTube videos, I found out recently that the Potter Puppet Pals video "The Mysterious Ticking Noise" won the 2007 YouTube Video Awards. Good for them! I find that video very hilarious. Snape, Snape, Severus Snape...Dumbledore! Gotta love it. I just posted it on my Facebook profile, and here it is too for your enjoyment.
Anyway, can't think of anything else to say, and I'm tired.
I'll end the PotterCast/Potterwatch way:
Keep twiddling those dials! The next password will be "Orpheus." Keep each other safe. Keep faith. Good night!