Check this out!
http://www.cbs.com/primetime/amazing_race7/show/ep01/race/story/
You'll find out that as the first place finishers of the first leg, Debbie and Bianca got $10,000...EACH!!! Now, in previous seasons, the first place finishers of a leg won a trip to Hawaii or somewhere. But money!? Wow. So even if they don't win, they'll leave with something. Here's their happy faces: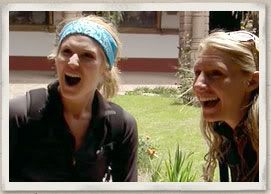 Here's a picture of the happy (and completely alcohol-free, strange for the host of a show where people had a Detour choice of drinking vodka in shot glasses off Cossack swords a couple seasons ago...but that's partially why he looks so fit all the time) Phil Keoghan, with an Incan soldier, waiting to greet the teams: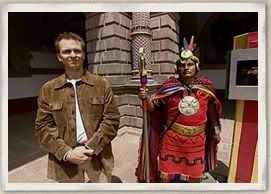 For me, nothing to report...I did finish my Word test though this morning. But since I wanted to get here early, I got up at 5:30, so I am pooped....
(Btw, I got these pics from the
Amazing Race 7
website, which you can get to using the link above).